Sébastien BOIN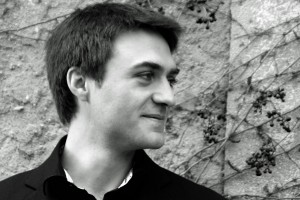 Sébastien Boin, born in 1984, began learning classical guitar music in the classes of Philippe Azoulay and Alexandre Boulanger. At the CNR in Marseille, he trained in chamber music and writing before resolutely turning to conducting. He left the conservatory in 2007 with a first prize unanimously in the executive class of Roland Hayrabedian.
He continued his studies by entering Musicology at the Sorbonne (Paris IV), while completing his training in several interpretation classes and management projects organized by the ARIAM Ile de France. He collaborated with the Choir of Radio France, the Contemporary Choir, the European Chamber Orchestra AME, the Mediterranean Youth Orchestra, before being regularly invited by the Radio France Philharmonic Orchestra as a citharist. In 2013 he was selected as conductor to participate in the International Academy of Modern Ensemble in Austria.
His curiosity for the many forms of artistic expression and current currents of thought led him to found in 2006 an instrumental ensemble dedicated to musical creation and called C Barré. This ensemble allows him to experience the dual responsibility of artistic direction and musical direction.
In 2009, at the age of 24, he was invited by Matthias Brauer to prepare the Choir of Radio France for the creation of Thierry Lancino's Requiem. He is now regularly welcomed for new productions. Among them are Paul Dukas' Ariane et Barbe-Bleue (Salle Pleyel – 2011), Bartók's Mandarin Merveilleux (Présences 2012 Festival), El Beso, creation by Florent Motsch (Alla Breve – 2012) or the creation of Missa Brevissima. Philippe Bodin (Alla Breve – 2014), for whom he works with Jean Deroyer, Susanna Mälkki, Tito Ceccherini and Eliahu Inbal.
In 2015 Sebastien Boin takes the artistic and musical direction of the new orchestra "OSAMU", symphony orchestra of the University of Aix-Marseille. Currently he regularly assists Roland Hayrabedian for the Musicatreize ensemble and teaches musical direction at CFMI in Aix en Provence. In addition, he is regularly invited by the Avignon Provence Regional Orchestra and the Basse Normandie Regional Orchestra.
He has been invited by the Festival International d'art Lyrique d'Aix-en-Provence for a European tour with the opera "Svadba" by Ana Sokolovic in 2016-2017.