The ensemble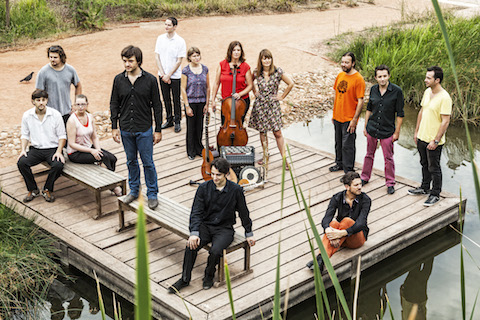 C Barré is an instrumental ensemble founded and directed by Sebastien Boin, fruit of an encounter between 12 musicians. This unique group, currently associated with gmem-CNCM-marseille, a national center for musical creation, is made up of rich, enthusiastic personalities that are profoundly invested in the creation and the dissemination of the contemporary repertoire.
The predominance of plucked stringed instruments, as well as instruments that were heretofore exceptional, bestows on the ensemble a distinct personality, quite separate from today's musical landscape. The makeup of the ensemble is unique and is enriched by the dynamism and thirst for experimentation of its musicians. Furthermore, the ensemble regularly takes on other instruments, as well as taking advantage of the resources that each individual has at his or her disposal such as improvisation skills and knowledge of other forms of art and popular music.
Based in Marseille, which is both the biggest port and oldest city of France, it is easy to understand the regular involvement that C Barré has with composers from the Mediterranean basin. These last few years the Ensemble C Barré has performed at the Philharmonie de Paris, Festival of Île de France, Radio France, Festival of Marseille, Festival Les Musiques, the Grand Théâtre de Provence, with choreographers and dance companies such as ICE Ensemble (NYC), Nederlands Danse Theater II, Johanne Saunier, Michel Kelemenis and Bill T. Jones / Arnie Zane Dance Company New York..
C Barré, associated with gmem-CNCM-marseille, a partner of the CFMI of Aix-Marseille University. It is subsidized by the Ministry of Culture-DRAC PACA, the Conseil régional SUD Provence- Alpes-Côte d'Azur, the Conseil Général des Bouches-du-Rhône and the Ville de Marseille and benefits from the support of SACEM, SPEDIDAM, FCM, ADAMI, MFA-Musique Française d'Aujourd'hui, the Institut Français, the FACE Fondation, the Ernst von Siemens Music Foundation and the Foundation Impuls für Neue Musik. He is a member of Temp'óra, FEVIS, PROFEDIM, Futurs composés and the Bureau Export. La Caisse des Dépôts is the main sponsor of Ensemble C Barré.