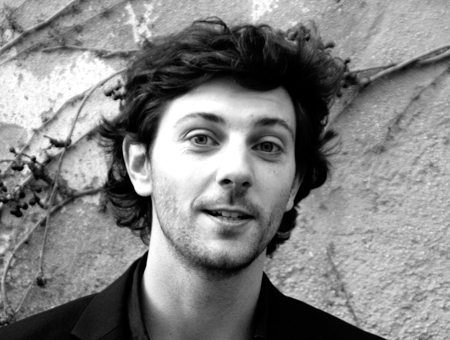 Thomas Keck started playing guitar at the age of 12 and entered the Conservatoire National de Région de Marseille in 2000 in Alexandre Boulanger's class. There he obtained the diplomas of Musical Studies in guitar, chamber music and musical training, as well as the advanced prize in 2006.
He continued his studies at the Conservatoire National Supérieur de Musique et de Danse de Paris in Roland Dyens' class, in which he was admitted that same year, while continuing his studies in Marseille at the Conservatoire à Rayonnement Régional des études d'écriture with Pierre-Adrien Charpy. He obtained a Diploma of End of Musical Studies in 2007.
As a guitarist, he has performed regularly in recital at the Chaillol Festival, as well as at the Rencontres de l'Hermitage in Cavaillon. In 2007, he was awarded the first scholarship in Oz near Montreal, Quebec, which gave him the opportunity to study with guitarists Lorenzo Micheli and Pavel Steidl.
He also performs at the Salle Pleyel as part of the Préludes de Concert organised by the Paris Orchestra, as well as at the Cité de la Musique, on the occasion of the reopening of the Musée de la Musique. He also participates in the Antony and Paris guitar festivals, in Salon-de-Provence during CEIS concerts at the Château de l'Emperi, in Geneva, in the lute and theorbo festival, in the Kagoshima-Chaillol festival in Japan, etc.
His activity as a performer touches as much on early music as on contemporary music and musical creation, which he regularly defends within the ensemble C barré, notably by working with composers from various horizons (Mirtru Escalona-Mijares, Jean-Christophe Marti, Pierre-Adrien Charpy, Olga Krashenko, Aurélien Dumont, etc.). This plural approach to repertoires allows him to extend his playing to the practices of the baroque, romantic and electric guitar, as well as to the chromatic zither and in third tones.
His taste for musical creation leads him to develop his own identity as a composer. He has written for the voice, chamber orchestra, guitar, dance, theatre and various chamber ensembles.
Holder of the Certificate of Aptitude, Thomas Keck currently teaches guitar at the Conservatoire à Rayonnement Départemental d'Évry.